This illustration depicts the entry and progression of the fraternity. (to zoom please click)
A Brief Compendium of the Family of Freemasonry

Masonry is composed of several layers of membership. At its base are the three degrees of craft or "Blue Lodge" Freemasonry. The fraternity looks to these three degrees as being the highest attainable, as all of the lessons of the fraternity can be found within them. But that has not precluded the development of the larger body, often referred to as the "family" of Freemasonry.

To the young mason, and to the non-mason, the various degrees and bodies may seem many and confusing, but upon careful examination and exploration, their roles and function will become clear.

Like stepping-stones to the fraternity at the foundational level of Freemasonry there are several Masonic youth groups. These groups also provide a means to enhance the family experience in Freemasonry, as parents are often participants and supporters along with their younger children. The purpose of these groups is to nurture adolescents and their sense of community and involvement.

These youth groups are:
Rainbow is a non-profit, service-oriented organization that teaches girls three basic virtues: Faith in a Supreme Being and other people, having Hope in all that they do, and Charity toward others.

The seven colors of the Rainbow are used to represent seven teachings that each member receives on her journey toward the pot of gold.

William Mark Sexson, a Christian minister and active member of the Masonic Lodge, founded the International Order of the Rainbow for Girls in 1922. The Rev. Sexson had spent his life dedicated to both fraternal organizations, and his ministry, and became aware of the need for a youth organization for young women who were from a Masonic or Eastern Star home.

Rainbow is open to girls between the ages of 11 and 20, regardless of race, creed, color or national origin. You do not have to be Christian to be a member. You can be assured that the values promoted by Rainbow are strong and basic to many religions

Many jurisdictions also offer Pledge groups for younger girls who wish to join Rainbow when they turn 11. The age range for Pledges is usually 8-10 year olds, though some jurisdictions allow younger girls to join Pledge groups. Check with your local jurisdiction for specifics about their Pledge program.



MEMBERSHIP REQUIREMENTS:
Be a young woman from 11 to 20 years of age. (For girls, age 8 to 10, many assemblies have Pledge Groups)

Belief in a Supreme Being (Individual religious beliefs are respected.)

Be a friend of and/or recommended by a Rainbow Girl, Mason, Eastern Star, Amaranth, or White Shrine but being related to a Mason is not a requirement. (Help will be provided to identify those who can recommend a young woman)

Be of good character and reputation. (Nobody is perfect, but members should strive to be the best they can be.)

Petition an assembly for membership (Parents or guardians must approve of membership).
Famous Rainbows:
Alaska – Ermalee Hickel, Wife of Gov. Walter Hicke

Alaska (Jeneau #3) – Renee Geurin, Broadway Performer, Head of the Voice and Speech Department of the American Adademy of Dramatic Arts, NYC

California – Patricia Barry, TV & movie Actress (Days of our Lives)

California – Lee Merriwether, Miss America, Actress Former Grand Officer

California – Dorthy Lamb, First Lady of Colorado

California – Jill Kinmont, A world-class (Olympic) skier who was paralyzed in a skiing accident. After her accident she became an inspirational speaker, wrote a book that is used by many schools, started her own foundation, the Jill Kinmont Indian Education Foundation. There is a movie about her life – The Other Side of the Mountain.

Colorado – Dorothy M. Metcalf-Lindenburger, Fort Collins #2

Hawaii – Lei LLima #2- Heather Stanton Moretzsohn, Liaison Officer for US

Hawaii – Kehaulani #5 – Jo Ann Kinzler Krug, Sheriff, San Bernadion CA

Hawaii – Hilo #4 – Cheryl Lau, Attorney General and Sec of State, Nevada

Hawaii – Hilo #4 – Karen Lau Sullivan, US Commissioner to the South Pacific Islands

Indiana – Crawsfordsville #28 – Sue Anne Gilroy, Sec. of State, IN

Iowa – Denison Assembly – Donna Mullenger (Reed) TV Actress

Iowa – Clarinda Assembly – Virginia Lines, Miss Iowa 1951

Iowa – Belle Plain Assembly – Jeanne Formanek, Miss Iowa 1967

Iowa – Avoca Assembly – Rebecca Ann King, Miss America, 1973

Maine – Lewiston #14 – US Senator Olympia J. Snowe

Michigan – Lansing #11 – Tammie Ferguson, Special Olympian Inspirational Athlete of the year. Lit the Torch at the 1998 Special Olympics and featured on Special Olympic Wheaties Box

Missouri – Liberty Assembly – Judith Craig, Bishop for Western Ohio area, United Methodist Church PGWA

Nebraska – Ashland #19 – State Senator Carol Hudkins

Nevada – Dawn Wells, Miss Nevada, "Mary Ann" on Gilligans Island, TV journalist and hostess. Has special line of clothing "The Wishing Well", using velcro closures for those who have difficulty dressing themselves. Advisory Board Childrens Hospital at the University of Missouri, Co-hosts the Children's Miracle Network Telethon for Missouri for over 11 years, Board of Trustees at Stephens College. Spokesperson for the International Wildlife Coalition and The Elephant Sancturary. Instrumental in establishing the Whale Sanctuary in Antarctica.

Nevada – Faith Assembly – Evelyn de la Rosa, Internationally renowned soporano

New Hampshire – Portsmouth #2 – Patricia Christo Coffey, Superior Court Judge

New Mexico – Silver City #21 – Virginia White, Personal Assistant to US Senator Jeff Bingaman

New Mexico – Chapparal #44 – Angelina Estrada Burney, Broadcaster at KTVA, Anchorage, AK

New Mexico – Zia Roswell #2 – Shirley Crawford Sonnamaker, co-anchor at KBIM TV

Ohio – Fairborn #50 – Rebecca Schmidt, Attached to the Office of the Sec of Defense. PGWA

Oklahoma – Laverne #91 – Jane Jayroe, Journalist and anchorwoman of local newscasts in Oklahoma City and Dallas/Fort Worth areas. Miss Oklahoma and Miss America

Pennsylvania – Martha #11 – Bobbie Shunk Gaunt, First Woman President and CEO of Ford Motor Co. of Canada

Pennsylvania – Clarion #168 – Debra Port, Actress (Melrose Place, Exorcist III..), model, spokesperson (Ford, Mercury, Chrysler, AAA, General Motors, K-Mart, Yellow Pages, Sears, Century Baby Car Seats)

Rhode Island – Cranston #2 – Col. Lorraine Potter, Highest ranking female Chaplain in the military. Nominated for the rank of General. (She is now Maj Gen, retired)

Rhode Island – Westerly #7 – Ruth Buzzi, Actress (Laugh-in, Sesame Street)

Washington/Idaho – Bremerton (Wash) #12 – Frances Haddon Morgan, Washington State Senator

Janell Berte' is a PGWA from Pennsylvania. She is in her mid to late twenties and already a VERY successful business woman and bridal gown designer.

Senator Daniel Inouye and for the Dept of State, and Sao Paulo Brazil.
'IYOB FILIAE'
Iyob is Greek for Job, and Filiae is the Latin plural for daughters
"And in all the land were no women found so fair as the Daughters of Job; and their Father gave them inheritance among their brethren." ~ Job 42:15

Job's Daughters is an organization of young women between the ages of 10 and 20 who are related to a Master Mason, and share a common bond.

Throughout the year, they perform service projects to help the community, the less fortunate, and other charities. They actively support the Hearing Impaired Kids Endowment (HIKE) Fund, which purchases hearing assistance devices for hearing impaired children. They teach individual leadership by holding various offices within Job's Daughters. Various scholarships are offered on a state and a national level.

Organized into local chapters called Bethel. Members of a Bethel elect their own officers, decide their own activities, and plan their own events.

Job's Daughters exemplifies qualities that today's young women want and need from organizations that earn their commitment . . . fun, friendship, helping others, and the chance to learn organizational and leadership skills.

Requirements for membership:
Be a young woman from 11 to 20 years of age.(For girls, age 10 years; many Bethels have a JD 2 Bee Program.)

A belief in God. (Individual religious beliefs are respected.)

Be related to a Mason. (Help will be provided to identify a Masonic relative.)

Be of good character and reputation. (Nobody is perfect, but members should strive to be the best they can be.)

Petition a Bethel for membership. (Parents or guardians must approve of membership).
Purpose:

The purpose of the International Order of Job's Daughters is to promote friendship among young women. It gives members the foundation on which to build the qualities needed to become contributing partners of society through personal growth.

Job's Daughters is a service oriented, non-profit organization created to unite young women who share the common bond of a Masonic heritage.
DeMolay is an organization dedicated to preparing young men to lead successful, happy, and productive lives.

Basing its approach on timeless principles and practical, hands-on experience, DeMolay opens doors for young men aged 12 to 21 by developing the civic awareness, personal responsibility and leadership skills so vitally needed in society today.

DeMolay combines this serious mission with a fun approach that builds important bonds of friendship among members in more than 1,000 chapters worldwide.

DeMolay alumni include former President Bill Clinton, Walt Disney, John Wayne, Walter Cronkite, football Hall-of-Famer Fran Tarkenton, legendary Nebraska football coach Tom Osborne, news anchor David Goodnow and many others. Each has spoken eloquently of the life-changing benefit gained from their involvement in DeMolay.



Requirements for membership:


DeMolay is open to young men between the ages of 12 and 21 with many chapters located throughout the United States.

An application for membership may be received from a young man who has passed his twelfth birthday, but who has not reached his twenty-first birthday. The applicant must be of good character and morals.
The next step at the foundation is:

Blue Lodge Freemasonry
This is marked by three degrees or steps, which are:
The 3rd Degree, that of the Master Mason, is the "highest" degree the can be given in all of Freemasonry. In the U.S. each state governs its own recognition, actions and degrees. Each state is made up of its own local individualized "lodges" which are its principal meeting halls.

An equal body of Regular Freemasonry for women is the:
Following the first three degrees of Freemasonry are additional bodies that provide further knowledge and insight to the tradition, building on the original three. These organizations split into two directions, whose teachings are slightly differently, but inherently teach the same message.

The two bodies are:
The Scottish Rite, which is sub divided into:
The Scottish Rite is split into two bodies in the continental United States, again teaching slightly different disciplines. Within these systems are a conglomeration of additional degrees that offer further insight and philosophy.

Following this second step is a third, which has a slightly different focus, called:
Members of the Ancient Arabic Order of the Nobles of the Mystic Shrine for North America are members of the Masonic Order and adhere to the principles of Freemasonry Brotherly Love, Relief and Truth.

Shriners are distinguished by an enjoyment of life in the interest of philanthropy. The approximately 500,000 member organization has a buoyant philosophy which has been expressed as "Pleasure without intemperance, hospitality without rudeness and jollity without coarseness."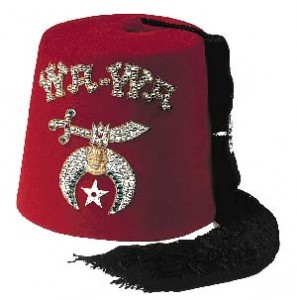 If you hold the Master Mason degree in Freemasonry, you qualify and are invited to join the Shrine.

As of July 2000, any Master Mason can now petition to join The Ancient Arabic Order of Nobles of the Mystic Shrine, or A.A.O.N.M.S. The Shrine grew out of Freemasonry over 100 years ago and is meant to provide additional fellowship to its members through its various clubs and other functions. The Shrine also supports many hospitals for burned or crippled children and does not charge any fees for the medical care! Shriners consider the Shriners Hospitals for Children the "Greatest Philanthropy in the World". In 2004, it is projected that the Shriners Hospitals will spend more than $1,600,000 every day to help children.
After these main bodies, there are ancillary groups of Freemasons who have come together to form additional clubs. These are on the national level and meet with regularity in a variety of locations.

These additional Bodies in the family of Freemasonry include:

Grotto
Mystic Order of Veiled Prophets of the Enchanted Realm

The GROTTO is provided to the Master Mason as a place where he might join with his brothers in letting human instincts for fun, pleasure and amusement prevail.

The GROTTO was not and is not a place for Masons to exercise practices that would not be tolerated in the Masonic bodies, or which are taboo among gentlemen. The GROTTO stands for all of Masonry and wholesomeness in life. It stands for letting in the sunshine on discouragement, grief and woe and it stands for substituting hope for despair at all times.

TWELVE COMMANDMENTS OF THE GROTTO
To draw the Master Masons of different Lodges into closer and more friendly relations.

To create and maintain a spirit of Fraternity among us.

To discountenance jealously, enmity and ill-feeling.

To teach us that we are not only members of one Blue Lodge, but belong to the Fraternity-at-Large.

That there are good Masons outside of our own Blue Lodge and they are worthy friends and companions.

To build up and strengthen the character and individuality of the Mason, and to teach, recognize and develop the principles of Masonry outside the Lodge Room.

To teach that a Mason is not judged by his actual appearance or worldly wealth.

The Grotto meets all Masons on the Level, not figuratively, but actually, and teaches that Masons are Brothers on the street as well as in the Lodge Room.

That Masonry must not be used as a means of advancing the material interest of any man.

To get out of the rut in which we too often fall.

To forget our cares, for there is good in all of us.

The Grotto is a social organization for Master Masons.
Sojourners are a fraternal organization meeting the needs of military Masons and advancing programs that promote love of country.

Membership in National Sojourners is open to citizens of the United States who are Master Masons in good standing in a duly constituted Lodge of Master Masons recognized by and maintaining fraternal relations with a majority of the Regular Grand Lodges in the United States and who are serving or have served honorably as:
A Commissioned Officer or Warrant Officer of the uniformed services of the United States,

A Senior Non-Commissioned Officer of the uniformed services of the United States, (E5, 6 & 7 prior to 1958 – E7, 8 & 9 as of 1958)

Have served in time of war as a Commissioned Officer or Warrant Officer or the equivalent in an armed service of a nation allied with the United States

Or are regularly elected to Honorary Membership.

History:

Although the term "sojourner" is common in Freemasonry, it takes on new meaning under the aegis of National Sojourners, Inc. This Order, founded to meet the needs of the Military Mason in war and peace, has as one of its precepts the words of George Washington, who once said:

When one assumes the soldier, he does not lay aside the citizen.

The Order traces its origin to the time when the North Dakota Regiment departed the Philippines taking with it the Field Lodge Dispensation, which had filled the needs of Masons while they were there. In its place a club of Masonic Sojourners was formed. In 1901 sixteen of these Sojourners, representing 13 Grand jurisdictions, demitted from their home Lodges and were granted a Lodge Charter by the Grand Lodge of California. Of course, by instituting a formal Blue Lodge, they negated their purpose for being and, therefore, ceased to exist. In 1913, Surgeon Capt. Harry Eugene Stafford, 33, Chartering Master of the Manila Lodge, which replaced the Sojourners Club, became the first Grand Master of the new Grand Lodge of the Philippines.
High Twelve is an association of Master Masons who desire an hour of Masonic fellowship independent of the formal ritual of Lodge but dedicated to the service to the fraternity. High Twelve was founded by E. C. Wolcott in Sioux City, Iowa on May 17, 1921.



Their Mission:



To spearhead the entire International High Twelve organization by providing all required administrative functions for the organization.

BASIC PRINCIPLES AND AIMS OF HIGH TWELVE

We practice the great lessons of Freemasonry and encourage members to attend and participate in their Blue Lodge activities.

High Twelve unifies Master Masons from many Lodges in an association where fellowship grows into lasting friendships.

As High Twelve Masons, we support the Public School System and encourage participation in constructive community activities.

ORGANIZATION AND STRUCTURE

There are over 300 active High Twelve Clubs with 25,000 members in the United States, Canada and Foreign Countries.

The local Club is the foundation for the State and International organization. State Associations of High Twelve Clubs are composed of representatives from every chartered High Twelve Club within their jurisdiction.
The principal objects for which the Amaranth is formed are fraternal, social and charitable.

Fraternally, the Order endeavors to develop the moral character of its members through a belief in a Supreme Being and the teachings of the lessons of Truth, Faith, Wisdom and Charity. Each member is taught to care for the welfare of her and his fellow members.

This Organization affords its members a social outlet.
Providing an opportunity to meet together with people with similar interests and fulfill the basic human need for social companionship, members enjoy planned social events with other members and their guests.

For all courts and their members, civic and charitable projects are a main stay of each year's activities.

Charity is a guiding principal of the Order.

The Order's main charity is the Amaranth Diabetes Foundation.
Grand Courts and local courts support many other charities.
Scholarship Funds.
Nurses' Training.
Care for the Elderly
Soup Kitchens
Ronald McDonald's House
Visiting Nurses, and
Many other local community charities.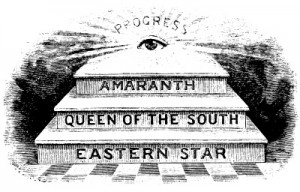 Tall Cedars of Lebanon of North America is an appendant Masonic organization devoted to fostering friendship and fellowship among Freemasons and to all mankind.

We are over 13,000 members with an unyielding commitment to provide a "place in the sun" for those many thousands of victims of neuromuscular diseases who, through their own means, may not be able to share and enjoy the experiences of life that we so often are able to take for granted.

Membership into the Tall Cedars is open to all Master Masons in good standing.



Tenets



To promote a stronger bond with ALL Freemasons and to further the goals and tenets of Freemasonry. To find a cure for Muscular Dystrophy and neuromuscular diseases.

To recognize mans' need for fun and relaxation among his family, friends and neighbors.

Creed

" Fun Frolic & Fellowship"

We offer every Master Mason an opportunity to enjoy a fuller more enriching life.
The White Shrine is a not-for-profit body organized under a charter of incorporation dated October 23, 1894, and recorded in the office of Recorder of the State of Illinois on June 18, 1895. It is an international organization with Shrines throughout the United States and Canada.

Membership in the Order of the White Shrine of Jerusalem consists of ladies who have a relationship through birth, marriage or legal adoption to a Master Mason in good standing or who was in good standing at the time of his death in some regular Masonic Lodge, as well as members either active for three years or majority of the International Order of Rainbow for Girls or Job's Daughters International who have attained the age of eighteen (18) years of age. Petitions for membership, based on Rainbow or Job's Daughters membership, shall include a recommendation signed by a Master Mason in Good Standing

The term "White" is not a racial delineation, but rather refers to the purity of the life of Jesus Christ. Neither is this body connected to the Ancient Arabic Order of the Mystic Noble Shrine (AAOMNS) to which some Master Masons (Shriners) belong.

The aim of the White Shrine is to bring together men and women of high moral and social character to share their desire to spread the Gospel, aid and assist those less fortunate, and create enjoyable experiences for themselves. Its three principal areas of character building are: Spirituality, Charity, and Fraternity
Daughters of the Nile is an international fraternal organization for women 18 years of age or older, who are related by birth or marriage to a Shriner, Master Mason or another Daughter of the Nile. It has been in existence as a social and charitable organization since 1913.
One of their largest focuses is as a charity where they have: Contributing over 1 million dollars annually to the Shriners Hospitals for Children

Volunteering and sewing garments, quilts, and other necessary items

Supporting over 148 Daughters of the Nile Organizations in the United States and Canada

Founded in 1913 in Seattle, Washington, Daughters of the Nile is comprised of 147 Temples throughout the United States and Canada, with more than 37,000 members.

Members of the Daughters of the Nile are proud of their long association with the Shrine of North America and their continuing support of Shriners Hospitals for Children.
Founded in 1905 by a number of Masons meeting at the Mission Masonic Temple, in San Francisco, California, its purpose of forming was to create a social club where Masons could get together on an equal footing, free from the confines of the lodge, yet organized for the purpose of furthering Masonic teachings and applying, in a practical way, in everyday business affairs, the teachings of the fraternity.

The organization was quickly recognized as a valuable community because it brought the brethren into close contact in their daily lives; fostering the true spirit of fraternity. This unity caused men to forget their worries, troubles, and cares of life and made them look upon the brighter side of things giving them new hopes and joy.

The slogan established was: BOOST ONE ANOTHER!



With the Moral:



Our neighbor's assistance and cooperation in your business affairs;
The strong grip of a friend to help you over the rough places in life;
A kind word spoken in your behalf or your defense;
A watchful care over your brethren in their journey through life;
And a full measure of innocent amusement;
is worth many times more to you while living, than the most beautiful requiem, over the most unctuous sermon, or the most elaborate pyramid over your remains when you are dead.

Simply, SCIOTRY is friendship, fellowship, and cooperation, and the spirit of Boosting One Another through unity in all things.
Societas Rosicruciana in Civitatibus Foederatis – Encyclopedic Entry

By Right Worthy Frater David Lindez IX
Grand Archivist, SRICF High Council

The Societas Rosicruciana in Civitatibus Foederatis is a Rosicrucian Society based in the United States of America extending from its formation of a Grand High Council on April 21st, 1880 and its official consecration on September 21, 1880, by three Colleges chartered by the Societas Rosicruciana In Scotia.[1] High Grade Christian Freemasons in the United States in search of the Classical Rosicrucian Society for Masons in the United Kingdom became interested in organizing a similar body in the United States and did so under Scotland's authority (Societas Rosicruciana In Scotia) with the help of Most Worthy Charles Matier of the SRIS, as early as 1873[2]. This effort died out two years later under the care of R.W. Frater George S. Blackie VIII and was then re-chartered by the SRIS later again in 1878. Dr. Jonathon J. French[3] was a IX grade head of the Rosicrucian Society of the United States & opened the Matier Royal Provincial College with a charter from Lord Inverurie, Earl of Kincore and Supreme Magus of the SRIS. The college was named after Charles Fitzgerald Matier, the first Supreme Magus of SRIS who served in 1876. Harold Van Buren Voorhis insists that the Illinois College under Dr. French was never truly active, and it certainly was short-lived as Dr. French died an untimely death in 1879. Harold Voorhis also insisted that Frater Stodart Blackie's early charter in New York had been nothing more than an unsubstantiated rumor. It has since been established as historical fact.

In 1878 a group of senior U.S. Masons (Daniel Sutter, and Charles W. Parker) led by Charles E. Meyer (1839-1908) of Pennsylvania traveled to England and on July 25th, 1878 were initiated into the grade of Zelator at Yorkshire College at Sheffield[4]. They applied for a charter, but getting no response, turned to Scotland and received a charter from the college in Edinburgh in 1879. Scotland's Society is actually the oldest as Walter Spencer is recorded as having been initiated into the SRIS by Anthony Oneil Haye in 1857, and there are documents in the SRIA archives that show that both Robert Wentworth Little and William J. Hughan were initiated in 1866 & 1867 by Anthony O'Neal Haye, Magus Max, Ros. Soc. Scot. With H.H.M. Bairnfathur signing as Secretary. The Societas Rosicruciana in Anglia[5] was formed in England in 1866 by Robert Wentworth Little. The SRIA later felt the need to charter the current SRIS on October 24, 1873.[6]

A second charter was granted by the SRIS for a college in New York, and Fratres from Philadelphia and New York met in Philadelphia on April 21, 1880 and formed a High Council, then known as the SRRCA or the Societas Rosicrucianae Reipublica Confoedera America, was later changed to the Society of Rosicrucians in the USA by Most Worthy Frater Shryock in his capacity as Supreme Magus and then properly Latinized in 1934 by & at the suggestion of Dr. William Moseley Brown under the regime of Most Worthy Frater Hamilton. Brown composed the name (Societas Rosicruciana In Civitatibus Foederatis) himself and submitted it on January 17th, 1934. The SRICF has operated continuously since its formation in the 19th Century, and is thriving today with an upsurge of young Masons being invited into its ranks with great enthusiasm and demonstrated scholarship.

Membership is by invitation only & predicated on regular mainstream Masonic affiliation as well as a profession of Christian faith. Membership was initially restricted to 36 members per College, but this was changed in 1908 by MW Thomas Shryock to 72 members per college. The See of the High Council is in Washington, D.C. The SRICF is in amity with the SRIS (Scotia) and the SRIA (Anglia) as well as the SRIC (Canada) and has helped the cause of Rosicruciana by empowering High Councils in their own sovereignty around the World. They are: the SRIL in Lusitania (Portugal), SRIG in Gallia (France) & the SRIR (Romania).

The society issues an annual journal known as Ad Lucem composed of academic articles on things related to Rosicrucianism & esoteric streams of Christian Mysteries. There is also an annual report, The Rosicrucian Fama. Many of the Colleges have their own individual organs[7] which are produced quarterly as well as annually. The governing body of the Society is known since 1911 (having dropped 'Grand' from its title) as The High Council which is composed of Fratres of the Third Order (IX and VIII), plus any College Celebrant not a member of the Third Order. The head of the Society is titled The Supreme Magus who was elected ad vitam up until circa 1991 when the constitution of the Society was changed to reflect that Supreme Magi are elected each triennium. Unlike the SRIA in England, a Chief Adept in the SRICF does not have regional powers, but rather is in charge of an individual College. Typically there is but one College per state, exceptions having been made for both New York and California due to their size and population.



List of Supreme Magi of the SRICF



Charles E. Meyer 1880-1908

Thomas J. Shryock 1908-1918

Eugene A. Holton 1918-1927

Frederick W. Hamilton 1927-1940

Arthur D. Prince 1940-1950

Harold V.B. Voorhis 1950-1979

Laurence E. Eaton 1979-1984

Henry Emerson 1984-1986

William G. Peacher 1986-1992

Joseph S. Lewis 1992-1995

James M. Willson, Jr. 1995-1998

Thurman C. Pace, Jr. 1998-2007

William H. Koon,II 2007- present
Degree Structure:
First Order
Grade I – Zelator
Grade II – Theoricus
Grade III – Practicus
Grade IV – Philosophus

Second Order
Grade V – Adeptus Minor
Grade VI – Adeptus Major
Grade VII – Adeptus Exemptus

Third Order
Grade VIII – Magister
Grade IX – Magus

KGC~ Knight Grand Crosses are awarded to IX grade Magi for exemplary effort in the work of the Society & Rosicrucianism in general.
----------
[1]Scotland chartered the Pennsylvania College on Dec. 27, 1879. This was followed by charters being issued to New York on April 9, 1880, Massachusetts on May 4, 1880
[2] Dr. George S. Blackie VIII given charter by Matier, SM of the SRIS, for a College in NYC (source: Bruce Wilson)
[3] March 17th, 1879 letter to Sir John O. Dominis, Governor of Oahu, Hawaiian Kingdom
[4] Mark Merckle also of PA was admitted to Metropolitan College
[5] Among its members were Kenneth R. H. Mackenzie, Dr. William Wynn Westcott (an honorary Magus of the SRICF) and W. R. Woodman, who were among the founders of the Hermetic Order of the Golden Dawn
[6] charter was issued by the SRIA to form East of Scotland College in Edinburgh. This college was renamed "Metropolitan College" in 1874. The High Council of SRIS was constituted ion January 13th, 1876.
[7] Ex-LI College in NYC, North Carolina & Louisiana College all title their publication as "LVX"

The jewel is a miter from which is suspended a red ribbon and jewel.

In North America – There are 33 active Colleges including:
Alabama

Arkansas

California

Connecticut

Delaware

Florida

Georgia

Hawaii

Illinois

Indiana

Kansas

Kentucky

Louisiana

Maine

Maryland

Mississippi

Missouri

New Jersey

New York

North Carolina

North Star (Minnesota)

Oklahoma

Ontario (Canada)

Pennsylvania

South Carolina

Supreme Magus (at large)

Tennessee

Texas

Virginia

West Virginia

Wisconsin
There are additional College world wide.
The Order of The Red Cross Of Constantine is an invitational organization and is considered by many to be the highest honor that can be awarded within York Rite Masonry. The membership of each Conclave is limited.

An individual must have demonstrated a high level of dedication and performance in his Masonic activities, be proposed for membership by a member knight, and pass a unanimous ballot.

The governing body is the United Grand Imperial Council of the Knights of the Red Cross of Constantine and Appendant Orders for the United States of America, Mexico, and the Philippines.

The Order of Knighthood is based upon Trinitarian Christianity and was traditionally founded by Constantine the Great after the Battle of Saxa Rubra in 312 A.D. While no direct connection can be made with that legendary Order, the principles and attributes have been carried over into modern Freemasonry.

Sovereign bodies of the Red Cross of Constantine exist in other countries of the world.
The Allied Masonic Degrees, like the Masonic Rosicrucian's (SRICF), is an organization based on interest and ability in Masonic research and scholarship. Membership is by invitation and is open to Companions who have completed the Chapter degrees. The local bodies are styled "Councils", and the national supervisory body is the Grand Council. Councils are presided over by a Sovereign Master, who is assisted by eight other officers. The structure and office titles of the Council are very similar to corresponding offices and ritual in the Blue Lodge. The maximum number of active members of any Council is limited to 27. Some Councils are very selective, and in some cases, only two invitees per year are selected. Papers and discussions of Masonic and related topics are typically held at Council meetings. The AMD controls 10 degrees, but which ones (if any) are actually "worked" is decided by each Council for itself.

Upon joining, the candidate is given a preliminary lecture on the history, aims, and purposes of the AMD, then introduced into the Council room, takes a "blanket" obligation, and is taught the necessary signs. This is sufficient to make him a member of the AMD. The insignia of a Brother of the AMD is shown at left. Any degrees that are conferred follow the obligation ceremony

SOME OF THE DEGREES CONTROLLED BY THE AMD:



St. Lawrence the Martyr


The candidate is requested to undergo a signal test of his courage, after which he is obligated, instructed in the history of St. Lawrence, and given the signs and words of the degree. Also explained are the significance of the gridiron and hackle, the special symbols of the degree.

Secret Monitor
This degree typifies the beauties of brotherly love, as exemplified in the example of David and Jonathan. It is based on their story and is semi-dramatic in character. The candidate receives an obligation, signs, and words and a lecture relating to the degree. The special symbol is the arrow.

Royal Ark Mariner
This degree is set in the time of Noah and his sons, and relates events prior to, during, and after the Flood. The degree is interesting because much of it is set in unrhymed meter, and because axes are used in place of gavels and undressed aprons for lambskin ones. The candidate receives the customary obligation, signs, words and a lecture. The lesson taught is one of trusting in God's goodness and mercy. Earlier in AMD history, separate Lodges of Royal Ark Mariners were attached, or "moored", to a particular Council, but this is no longer practiced.

Knight of Constantinople
This degree teaches the important lessons of humility and equality. It is set in the time of the Emperor Constantine, in the city of Constantinople. Two haughty Roman nobles learn the lessons previously cited in a most striking manner. Again, an obligation is administered and signs, word, and a lecture given.

Grand Tilers of Solomon
This degree bears a close affinity to the Select Master Degree of the York Rite Council. Like the latter, it is set in a subterranean vault and relates the story of an unwitting intruder into a secret council. The degree teaches that all Masons must be effective tilers and guard their Lodges against the unworthy and the irreligious.

Excellent Master
This degree is somewhat reminiscent of the Royal Arch Degree and Illustrious Order of the Red Cross. The candidate represents a Jewish sojourner freed from Babylonian captivity, who desires to return to Jerusalem and labor on the new Temple. He passes four veils in order to gain admission to the Sanhedrin sitting in Council.



Master of Tyre


This degree has three sections. The first takes place in the court of Hiram, King of Tyre who agrees to assist Solomon in building his Temple by sending men, materials, and Hiram Abiff. The second section takes place in a quarry near Jerusalem and involves Craftsmen discussing a conspiracy. The third section occurs back in Hiram's court at Tyre, where in memory of the deceased Chief Architect this degree is instituted as a memorial. There are several lectures throughout the course of the degree.



Architect


In this degree, the candidate states his abhorrence of the crime against GMHA, and is asked to participate in a memorial to the Chief Architect. After being obligated, he receives two catechisms.



Superintendent


This degree concludes the trilogy of Architect, Grand Architect, and Superintendant. Now, Moabon (the candidate) is elevated to the exalted station of Chief Architect (or Superintendent) to replace the one lost to treachery. He assumes an obligation, and is given a catechism on the furniture and adornment of the Temple.
But this is just part of the picture of Freemasonry in America. With so many "regular" organizations, there exist several outside of that sphere of recognition. This lack of recognition does not reflect necessarily on who they are or what they do, rather it is often a matter of procedural or policy. In many ways great strides are being made to establish recognition and build bonds, rather than breaking them down.

"Irregular" Masonic bodies: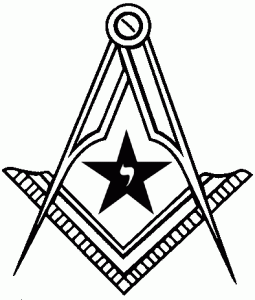 American Co-Masonry, an Masonic Obedience independent of all others, has not created a new Rite. That which distinguishes it from other existing Obedience's is that, instead of admitting men only to its ranks, it admits women on an equal footing. It proclaims equal rights for both sexes and absolute liberty of conscience; and it demands, in order to secure to everyone unlimited freedom in the search for truth, the utmost tolerance from all members. It avoids political and religious discussions wherever these cannot be carried on with the requisite tolerance and moderation; it welcomes everyone who is free and of good report, whatever may be his convictions in matters of religion, philosophy or politics.

American Co-Masonry seeks to destroy ignorance under whatever form, and its program may be explained as follows:
Each mason owes obedience to the Order and to the laws of his country;

he must live honorably, practice justice, love his neighbor, work unceasingly for the true happiness of humanity and

help human beings to emancipate themselves from the thralldom of passion and ignorance.

From the first to the last, to whatever degree the aspirant may desire to be admitted, the first condition to be fulfilled is to have a reputation of unsullied honor and probity.

Members of the Order owe to each other help and support in all circumstances and conditions of life.

To think high, to speak truth, to do well, to be tolerant to others, to search after truth, to practice liberty under law, fraternal equality, justice and solidarity, are the duties which the Supreme Council of American Co-Masonry, prescribes for its members seeking to build to the Glory of the Great Architect of the Universe, to the perfection of Humanity, and to the service of the Head of All True Freemasons, the true Masonic Temple open to both men and women.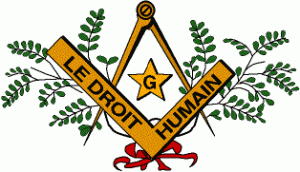 Co-Freemasonry is an international Masonic order that admits men and women on equal footing and is open to all earnest persons, of whatever race, religion, and ethnic or social group.

The basic difference is that Co-Freemasonry is available to men and women alike and does not discriminate on the basis of sex, nationality, religion, or ethnicity. Most Masonic groups admit only men; some admit only women; some admit both. But in addition, the Co-Masonic Order called "Le Droit Humain" is international, with its governing body in Paris and groups in some sixty countries of the world. Le Droit Humain also combines in one organization several varieties of Masonry: Craft Masonry (the basic sort), Scottish Rite Masonry, and York Rite Masonry.

Different from the Eastern Star which is an adjunct organization to exclusively masculine Masonry, intended primarily for the wives and daughters of Freemasons, but also including some men. It has its own ceremonies, but they are completely different from those of traditional Freemasonry. Co-Freemasonry follows the traditional Masonic rites and practices. Any masculine Mason who attends a Co-Masonic meeting will recognize it as essentially similar to his own practice.

The French expression "Le Droit Humain" is difficult to translate into English. It refers to Natural Law and Justice in human life, as distinct from laws that human beings make. It denotes the rights and responsibilities that every person is born with, those "unalienable Rights" cited in the American Declaration of Independence: "We hold these truths to be self-evident, that all Men are created equal, that they are endowed by their Creator with certain unalienable Rights, that among these are Life, Liberty, and the Pursuit of Happiness."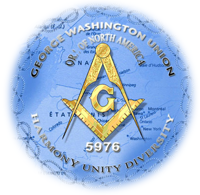 GWU Freemasonry is a form of Freemasonry for men and women of all nationalities, races, ethnicity, and creeds, who are not dogmatically bound to any specific religious belief or philosophical view. Its system of degrees helps members better fashion the "stone of self" within the one Temple of humanity, as it prescribes a symbolic, allegorical and ritualistic method of seeking to overcome ignorance, intolerance, and prejudice. Instead it strives to instill inits candidates with knowledge, wisdom, and service to the planet.

The motto of the George Washington Union of North America in a new millennium is:

HARMONY – UNITY – DIVERSITY
INTERNATIONAL MIXED ORDER
under the distinct name
"DELPHI"
and the formation of the
SUPREME COUNCIL OF THE 33º

A newly founded "DELPHI" International Mixed Order, which is as an independent, self-governing and sovereign entity founded to express the vision of its founders in the matters of unhindered, effective and creative action in the intellectual, social and international field, and especially by the activation of its members so that the may pass the torch of the Freemasonic Ideal to all the world.

Some of its principals include the belief that Freemasonry is a Universal institution originating from itself, derived from Reason and its objective is the search for Truth, choosing freely religious and political beliefs that Philosophy and Science are an essential value that advances the evolution of modern men and women.

They accept the Absolute Freedom of Consciousness and the absolute Tolerance, respecting any creed or dogma, and they regard the Universal Freemasonic Tradition as the source from which we derive moral values and the route that leads to Self-understanding.

Prince Hall freemasonry is a parallel line of Freemasonry, originally started as a Masonic lodge for freed african slaves in the colonies during the Revolutionary war.

Today, the Prince Hall fraternity has over 4,500 lodges worldwide, forming 44 independent jurisdictions with a membership of over 300,000 masons whereby any good hearted man who is worthy and well qualified, can seek more light in masonry.

Here is a list of Prince Hall Grand Lodges. Who is prince Hall?
More than 200 years old, this Rite still engenders lively interest and enjoys important developments on an international level. Faithful to its founding principles, it affirms itself as a Rite that is traditional, symbolic and spiritualistic, and associated with the principles of tolerance and liberty.

Upon entering into the Ancient and Primitive Rite of Memphis Misraïm, one places a foot on the path of tradition, with respect for human values and tolerance. This Rite is characterized by an initiatic quest founded on:
A spiritualistic and deist orientation,

A vocation to preserve and to transmit the philosophical reflection on symbols of Ancient Egypt and the different currents that have marked our civilization (Hermetic, Gnostic, Kabbalistic, Templar and Rose+Croix)

An open and reflective search for a better understanding of oneself and of humanity.

Such is the spirit of traditional Masonry for which, in every act, there is both the visible and the invisible, the positive and the negative, a fleeting, perhaps even non-existent, present, already bearing the seeds of the future.

Freemasons of this rite are invited to think. An apprencticeship and a methodology are proposed that are founded on the knowledge of symbols, living tools that, in a constant dynamic, call into question all that has been acquired. Thus, according to the tradition of the Rite, the Mason "works the stone" again, always refining the perceptions and developing discernment. It addresses the interior of each in a rich, intimate experience that through resonance jostles the exterior while causing the perceptions and vision of the world to evolve, because the Mason has begun the greatest possible adventure, the conquest of the self.
------
Of important note, Prince Hall Freemasonry is recognized by many states in America, but is still considered by others to be "clandestine", which means they see it as irregular not allowing involvement in events with one another.

Source : http://freemasoninformation.com/what-is-freemasonry/family-of-freemasonry/